Design/Build
"Design/Build" means that Town Bank Builders can handle every aspect of your project from start to finish.
Whether you simply want a fresh new look for the exterior of your home, a new master suite, updating of your kitchen or bathroom, we can handle all of the design work for you, while also obtaining all necessary township permits.
Although a common practice has been to "bid a job out", doing so can leave you with the confusing task of qualifying contractors and comparing confusing elements of various bids. Its very easy to compare prices but very difficult to compare scope of work and specifications and even more difficult to compare service and craftsmanship.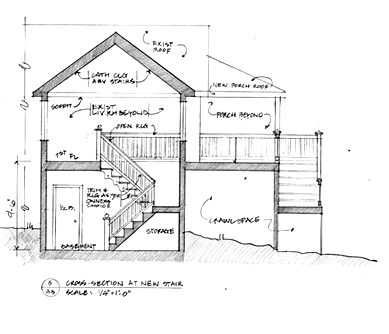 All to often people are tempted by a low price and live to regret it when they don't get the job they expected or worse, things start falling apart. Using Town Bank Builders Inc. can significantly reduce the stress, anxiety and risk so often associated with remodeling. Since we are involved from the beginning there will be fewer unexpected costs and best of all you only have to work with one firm. Of course if you have your own plans we can always work with you or your architect.